A group of Aussies from all over the country have been brought together by a racehorse and travelled to the other side of the world to see him race!
The horse in question, Django Freeman, was purchased last year in December in a unique deal conjured by Suman Hedge Bloodstock and HFTB Racing (Holger Faust).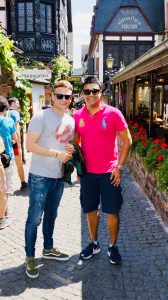 The then 2yo was part purchased by Australian clients with the deal premised on the colt being set for the German Derby and then sent to Australia for his future racing.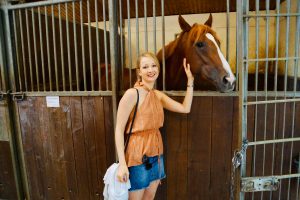 "It really was an interesting deal and took a fair bit of negotiating but it has worked out perfectly and in hindsight is something I'm really glad Holger and myself worked out," said Suman Hedge
"The idea of racing in another country at a high level has proven to be very exciting for the owners and ultimately given the horse has run so well its been a real adventure and bonded people for life."
The deal which has brought owners into Django Freeman from NSW, VIC and SA has seen a number of the group travel to Germany to enjoy a week of wining, dining and sightseeing as well as watching their steed compete in a classic Group 1.
The tour was brilliantly organised by Neerim lodge's Damian Slocum who was delighted with the end result.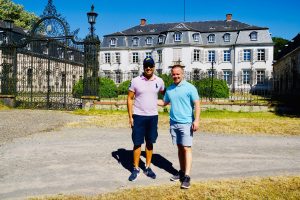 "The opportunity to run overseas in a Group 1 was very unique so we wanted to do something special for the owners. Over the course of the week we travelled across Germany taking in Frankfurt, Cologne, Dusseldorf and Hamburg and seeing Gestut Karlshof, Gestut Schlenderhan, catching up with Django in Cologne at Henk's stables and seeing the horse race in Hamburg," said Slocum.
Travelling together as a group the owners naturally bonded and shared many laughs and good moments on a trip that has galvanised the group forever.
"I've been on trainers tours previously in New Zealand and always found I bonded with whoever I travelled with and was always closer with them the next time we crossed paths and I am certain the same will happen here," said Hedge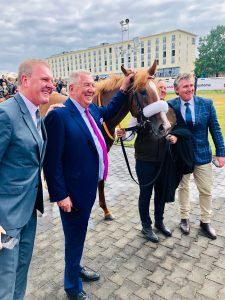 "It's just such a great group of people that really gelled well together and have so much to look forward too with this lovely colt. We may not have won the Derby, but we've run so well and have a lifetime of memories to take back and some lifelong friendships which are a result of the trip, it's been a wonderful experience."